About Us
---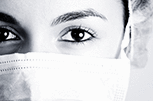 ---
Nurse Educator provides individuals with mask fit test certifications.
We perform Qualitative Fit Testing (QFLT) for N95 masks. Our highly skilled instructors are 3M fit test certified, and they offer an engaging, friendly learning style. Our mask fit testing approach will help you feel comfortable with wearing a an N95 mask to meet your school and work requirements.
Mask Fit Testing is now available by appointment only
---
Send a Message to Nurse Educator!
Please complete this form and we will be in touch to answer your questions!